How to go faster, stop quicker and corner flatter
text by Greg Pernula
photography by the manufacturers
Go-Fast Goodies
Overall, the stock Corvette heads are good, but you're looking for more grunt out. Getting airflow through the heads is one of the keys to small-block performance. You could pull off the heads, strip them and send them to a machine shop, but what are the alternatives? Fortunately, there are plenty, ranging from replacing the entire head with a complete unit or installing a bare performance head with a trick valvetrain. A host of companies offer cylinder heads with bigger valve diameters, improved flow and machined combustion chambers.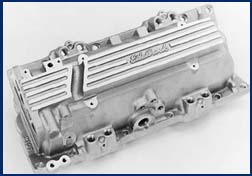 Edelbrock's new Performer LT1 intake manifold is now available for 1992-1996 LT1 engines and is aimed squarely at the street performance crowd. Fifty-states emissions legal, the Performer has a unique runner design that delivers more air and fuel for more torque and better throttle response. Dyno testing has proven gains of 35 lb-ft of additional torque and 25 percent more horsepower than stock intakes.
For your L98 or LT1 Corvette, CNC Cylinder Heads offers heads with exclusive port designs machined using Winston Cup CNC technology to produce high efficiency and precise port contours. They deliver maximum airflow capacity and high velocity, resulting in great advances in mid-range torque and top end horsepower.
ACCEL's Street Ram Fuel Injection System for Chevy small-blocks was developed in conjunction with John Lingenfelter to provide dramatic horsepower and torque increases and still be compatible with the OEM computer. The system comes complete with wiring harness, fuel pump and everything else needed for a trouble-free bolt-on installation.
Performance fans can benefit from the advanced technology of electronic multi-point fuel injection with Edelbrock's Pro-Flow system. The Edelbrock/Weber system utilizes an intricate sequential firing speed/density system for instantaneous throttle response, increased horsepower, smoother engine operation and better fuel economy.
For owners of earlier Corvettes, Holley has a first-string lineup of digital fuel injection systems in its Pro-Jection retrofit kits for carbureted, non-computerized engines. A total of six systems are available in 650, 700 and 900 cfm four-barrel versions to accommodate horsepower ranges from 150 to 500.
Howell has an aftermarket fuel injection system specifically designed for refitting Corvettes originally equipped with carburetors to a TPI system. The Howell system utilizes a custom wiring harness to link the original factory computer and emissions equipment together with the replacement TPI system.
Sources
ACCEL
Mr. Gasket Performance Group
8700 Brookpark Rd.
Cleveland, OH 44129
216-398-833
A/O Engineering, Inc.
19523 Delaware Circle
Boca Raton, FL 33434
305-975-9551
Arizona Speed & Marine
4834 S. 49th St.
Phoenix, AZ 85040
602-437-2510
Baer Racing Inc.
3108 West Thomas Road
Suite 1201
Phoenix, AZ 85017-5306
602-233-1411
Fax: 602-352-8445
CNC Cylinder Heads, Inc.
6400 53rd Street
Pinellas Park, FL 34665
813-527-886
Corvette Performance
27660 Marguerite Pkwy.
Ste. C-210
Mission Viejo, CA 92692-3634
714-247-1038
Edelbrock Corporation
2700 California Street
Torrance, CA 90503
310-781-2222
Eibach Springs
15311 Barranca Parkway
Irvine, CA 92718
714-727-3700
Energy Suspension
1131 Via Callejon
San Clemente, CA 92673
714-361-3935
Flowmaster Inc.
2975 Dutton Ave. No. 3
Santa Rosa, CA 95407
800-544-4761
Holley
1801 Russellville Road
P.O. Box 10360
Bowling Green, KY 42102-7360
502-782-2900
Hooker Headers
1024 W. Brooks St.
P.O. Box 4030
Ontario, CA 91761
909-983-5871
Howell Engine Developments Inc.
24356 Sorrentino Court
Clinton Township, MI 48035
810-791-6400
Hypertech, Inc.
1910 Thomas Road
Memphis, TN 38134
901-382-8888
Kanter Auto Products
76 Monroe St.
Boonton, NJ 07005
800-526-1096
LG Motorsports
4314 Action St.
Garland, TX 75042
214-272-7753
March Performance
5820 Hix Rd.
Westland, MI 48185
313-429-3633
Mid America Designs
One Mid America Place
P.O. Box 1368
Effingham, IL 62401
800-500-VETT
Performance Resource
12 Barbara Drive
Fairfield, NJ 07004
201-343-0680
Performance Suspension Technology
P.O. Box 396
Montville, NJ 07045-0396
800-247-2288
SLP Engineering, Inc.
1501 Industrial Way North
Toms River, NJ 08755
201-240-3696
TPI Specialties
4255 County Road 10 East
Chaska, MN 55318
612-448-6021
TransGo Performance
2621 Merced Ave.
El Monte, CA 91773
818-443-4953
Vibratech, Inc.
Fluidampr
537 East Delavan Avenue
Buffalo, NY 14211
716-895-5404
Vortech Engineering
5351 Bonsai Ave.
Moorpark, CA 93021
805-529-9330
Weiand Automotive Industries
2316 San Fernando Road
P.O. Box 65301
Los Angeles, CA 90065
---
Copyright(c) 1996: Dobbs Publishing Group.
All rights reserved. Do not duplicate or redistribute without permission of the publisher.